The Jesbergs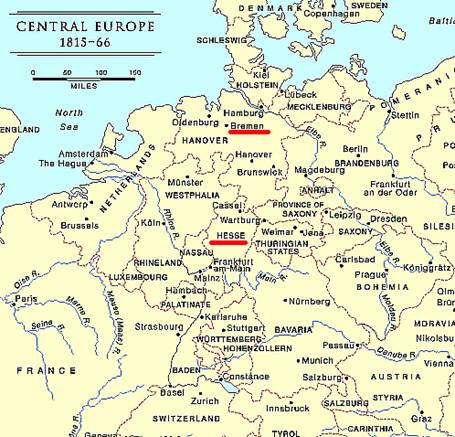 Weigend and Katherine Jesberg were both born in 1799 or 1880. A census record listed their birthplace as Hesse Cassel. We don't know much about their life but we can gain a lot of insight by looking at what was happening in the areas they lived in. In the 1800's, there was no country of Germany as we know it today. There were many smaller states or countries of German speaking people, one of which was Hesse (or Hessen in German). These states and districts had been ruled over on by Landgraves established by the Holy Roman Empire (much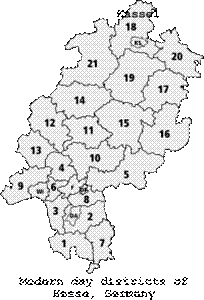 like Kings and Queens) for hundreds of years.  Hesse was only about 100 to 200 miles across but in 1567, the Hesse was further divided up among its rulers four sons into:  Hesse-Kassel, Hesse-Darmstadt, Hesse-Rheinfels and Hesse-Marburg. Trade and economical growth was hindered by manorial dues which were taxes and tariffs on goods crossing boarders of these small states.
Did the Jesberg's mean they were born in the district of Hesse-Kassel or the city of Cassel, Hesse?  Either way that places them in northern end of Hesse. 
More precisely, one of the Jesberg's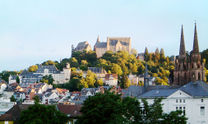 grandsons, Henry Dersch, was born in Marburg, a city in Hesse-Kassel, Germany, on the Lahn River. The city, like the entire area, is rich in history. This picture of Marburg shows a castle that was built in the 9th or 10th century and St. Elizabeth's Church, a very early Gothic church.  In the early 19th century, the Brothers Grimm collected many of their fairy tales there – Rapunzel's Tower stands in Marburg, and across the Lahn hills, in the area called Schwalm, little girls' costumes included a red hood. One of the Jesberg's sons, John, was born in Hesse Darmstadt which is more in the southern end of Hesse but not far away. It looks and sounds quite nice but there was a lot of turmoil in life there.
Between 1848 and 1852, revolutions rocked most of western and central Europe with exceptions such as the Netherlands, Belgium, and Britain. The early Industrial Revolution had strengthened the middle classes, who embraced liberalism and nationalism. Britain and Belgium, the most advanced industrial nations, avoided revolution by adopting liberal forms of government in the years preceding 1848 and expanding the franchise to include many of the industrialists and other members of the middle classes. But the German area states continued to resist liberal and nationalist reforms and tried to continue government-by-aristocrats. Political disunity came under repeated attack with the growing wave of German nationalism, which focused on the German-speaking peoples and sought to unify them in a single country. But the immediate cause of the revolutions was the economic hardship of 1846 and 1847. This hardship stemmed from the failure of the potato and wheat crops throughout much of Europe. The consequent rise in food prices drove demand for other products down and thus hurt the emerging industrial sectors as well. In addition, cholera spread through Europe in 1848 and 1849. Industrial developments also threatened the livelihoods of the many craft workers and they became instrumental in the early phases of the revolutions.
In March and April 1848, artisans and workers employed on the railroads and waterways began to resort to violence in an effort to gain their demands. Workers and crowds in cities broke machines, refused to allow steamships to take on cargo once carried by local boatmen, and attacked and destroyed the Taunus Railroad. Artisans such as printers organized strikes and demanded higher pay. Especially in the south, the peasantry rose against manorial dues by looting and burning, which especially targeted ownership records.
Weigent Jesberg, served 18 years in the German Army and was in the Napoleon war.  We don't know if the Jesberg's were party to any of these revolutions, or what their economical position was.  But, they decided to leave and sometime between 1849 and 1852, about the age of 50, they immigrated to the United States. If they left because of the revolution, it's ironic, that ten years later, they would have at least one son and one grandson fighting in the United States's bloodiest war, the Civil War. Their oldest daughter, Elizabeth, had married Jacob Dersch and had 4 children in Hesse between 1866 and 1854. They came over in 1857 and had two more children in St. Joseph, MO in 1860 and 1864.  The Jessberg's second oldest child, a daughter, Agnes, and Fredrick Bauer had a daughter in Hesse in 1856. She and her daughter were in Indiana in 1860. She and Fredrick had another daughter in Indiana in 1864. 
So the Jesbergs probably came to the United States with their 5 younger children. They settled in New Albany, Indiana which is situated along the Ohio River opposite Louisville, Ky.  The steamboat industry was the engine of the city's economy during the mid-19th century. At least half-dozen shipbuilders were in operation, and turning out a multitude of steamboats, including the Robert E. Lee. Shipbuilding was accompanied by a wide range of ancillary business, including machine shops, foundries, cabinet and furniture factories, and silversmith shops. Its second largest business was the American Plate Glass Works. By 1850, New Albany was the largest city in Indiana.
This booming city must have been good for William's tailoring profession. Their family continued to grow. In 1853, their daughter, Anna Gertrude, married Johannes Stadler.   They had a daughter, Mary, in 1856/7 in Indiana.  William's son Henry and his wife, Mary, also had a daughter named Mary in 1856/7 in Indiana.  In 1857, William's oldest child, Elizabeth, her husband Jacob Dersch, and 4 of their children rejoined the family. They sailed from Bremen, Germany to New Orleans. They then probably traveled by paddlewheel steamboat up the Mississippi and Ohio Rivers to New Albany.  After a few months, the Derschs moved on to St. Joseph, Missouri. In fact much of the Jesberg family eventually moved there. But William and Catherine stayed in New Albany as did their son, Henry, and his family.
St. Joseph was on the Missouri River and was a bustling outpost and rough frontier town. To the west, across the Missouri, was Indian Territory.  In fact this Northwest corner of Missouri Territory had just been "purchased" from the Indians in 1836 and St. Joseph was only incorporated in 1843. So it was "new" country and fliers were circulating inviting settlers to the area. St. Joseph served as a last supply point and jumping off point over the Missouri River toward the "Wild West", this due largely to the fact that it was the westernmost point in the United States accessible by rail until after the American Civil War. Thus wagon trains formed here while waiting for the grass to green up enough in the spring to support the horses on the journey west. St. Joseph was the eastern end of the Pony Express route in 1860.  When construction on the transcontinental line began the furthest west point for a rail service was the Hannibal and St. Joseph Railroad connection at the Missouri River at St. Joseph, Missouri. However, Missouri as a border state was considered too strategically vulnerable in the Civil War and so the decision was made to build the line further north. Thus St. Joseph was bypassed with the completion of the transcontinental railroad in 1869.
By the 1860 census:
William and Catherine Jesberg, both 60 years of age, are living in New Albany, Floyd Co., Indiana with 4 kids, John who is 25 years old, Christopher 19, Anna 30, and Catherine 15, and their granddaughter, Anna 3.   William, John, and Christopher are all tailors.  We don't know were Anna's husband was but maybe he has gone on to St. Joseph where Anna and he will eventually raise their family but he was back in 1864 to have another child in Indiana.

Henry, age 35, has moved about a 100 miles north to

Bradford., IN and is also a tailor. He and his wife, Mary who is 24 have two children, Mary 3 and Kate 1.
Jacob Dersch, age 58 years, is in St. Joseph with his wife, Elizabeth, 59, and 5 children. The youngest, Louisa, was born in Missouri in 1859 or 1860. Later in Jan 1864, they had another daughter, Emma, in Missouri. Jacob is a Laborer but later he will become a tailor also.
The Jesberg's Descendants:
1
Elizabeth (Jesberg) Dersch, 13 Aug 1818 – 21 Jan 1908.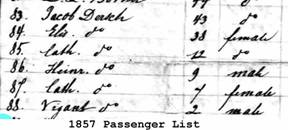 She married Jacob Dersch in Hesse and arrived  in the US in 1857.  They made St. Joseph, MO their permanent home. They brought their 4 children born in Hesse with them and had two more in 1860 and 1864. The next few sections are about their children.  
In the 1860 census, Jacob's occupation was a laborer but that may not have been correct because even their family name was not  right. It was listed as Dash.   In 1870, they came closer with the name Dasch, and his occupation was the family's dominate one, tailor.
Last Will Testament Jacob Dersch   
In the name of God amen:
I John Jacob Dersch of the City of st Joseph County of Buchanan and state of Missouri of the age of fifty eight (58) and being of sound mind and memory do make publish and declare this my last Will and testament in the manner following that is to say,
Ist I give and bequeath to my wife as a feeling of gratitude for the Love and affection received from her during my married life all my Real and Personal Property whatsoever provided she gives to the 6 of my living children the sum of five Dollars Each
IInd I hereby appoint for the benefit of my wife and family my beloved and older son Henry Dersch as executor of this my last Will and Testament.
In witness where of I have here unto set my hand and seal this 27th day of May, in the year of our Lord one Thousand eight hundred and seventy two. Jacob Dersch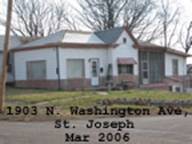 Elizabeth continued to provide a home for her children and, in 1889, she and some of her children lived in the house pictured at the right.
From St. Joseph Public Library
ST. JOSEPH NEWS-PRESS
WEDNESDAY, JANUARY 22, 1908

THE DEATH ROLL.
Mrs. Elizabeth Dersch, one of St. Joseph's pioneer residents, after an illness of several weeks duration, died last night at 10 o'clock. Mrs. Dersch was in her ninety-first year, having been born in Hesse Castle, Germany, August 13, 1818. She came to America sixty years ago, locating in Indiana, where she resided only a few months, and then removed to St. Joseph, where she had lived continuously since. Mrs. Dersch was of a family whose longevity is unusual, of seven children she is the second to die. Her two surviving sisters are also past eighty years of age. She was the oldest of the children. The other members of the family are all residents of St. Joseph: Mrs. Katharine Wild, Mrs. Gertrude Stradler, Mrs. Agnes Bauer, and two brothers, John and Christopher Jessberg. It was at Mr. Jessberg's home, 1601 North Second street, that she died. Two children survive her, Mrs. William Schrage of Orlando, Okla., and Mrs. Emma Vennekohl of Cosby, Mo. Mrs. Dersch was a member of the German Methodist Episcopal church at Third and Robidoux streets. And the funeral service will be conducted by her pastor, the Rev. Gustavo Becker.
1.1
Catherine (Dersch) May, 10 Oct 1844 to 26 Mar 1902

Two of Elizabeth's daughter's seem to have the same name; both use Katharina, Katherine, Catherine, Kate, etc.  This one, the oldest of Elizabeth's children, married a widower, Frederick May, on August 15, 1865. Frederick was 39 years old and Catherine was only 21. He had two sons, the oldest one being 11 in 1865. They lived in Brunswick, Mo. all the way across the state from St. Joseph. They had 4 more children and Frederick was a barber. Frederick died tens years after their marriage and Catherine returned to St Joseph with the children. In 1880, she was living in St. Joseph with 6 children ages 26 to 5. The two older boys were barbers.
Frederick

William A.

(May)

Emma

Catherine

Lillian I.

Charles J.

Elizabeth

Henry A.

(May)

Letitia A.

John
From St. Joseph, Mo Public Library's microfilm of newspapers:
THE ST. JOSEPH GAZETTE-HERALD, THURSDAY, MARCH 27, 1902.

MRS. CATHERINE MAY DIES
AFTER A LONG ILLNESS

Deceased Was the Mother of a St. Joseph Newspager Man

Mrs. Catherine May, aged fifty-seven years, died at 10:05 o'clock Wednesday night at the family home, 1322 North Second street, after a lingering illness of eleven weeks. The deceased was the widow of Frederick May, and was well known in Germany circles, being a life long member and prominent worker in the German Methodist Episcopal Church.


Mrs. May was born October 10, 1844, in Hesse Kassel, Germany, and came to America in 1857, reaching St. Joseph two years later. She was married to Frederick May August 15, 1865 and for ten years lived in Brunswick, Mo. returning here after the death of her husband.


The surviving members of the family are: Charles J., a member of the Gazette-Herald editorial staff, Henry A. and Miss Emma of St. Joseph, Mo. Mrs. J. W. Abel of Granite City , Ill.  And John F. and William D. of Newton, Kan. All but the two last named were at the bedside when death came. The deceased is also survived by a brother William Dersch of this city, two sisters Mrs. Emma Vennekohl of Cosby, Mo. and Mrs. Katherine Schrage of Oklahoma, and her aged mother.
No arrangements have been yet made for the funeral.
1.2
Henry Dersch, 1848 to 1891.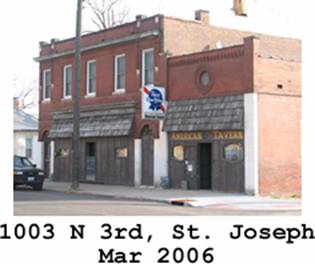 Born in Marburg, Hesse Cassel, Germany, Henry came to the United States with his parents in 1857 at the age of 9.   They settled in St. Joseph MO.  He fought in the Civil War. He married Miss Eva Wagner on 19 Mar 1874. His second marriage was to Helena La Bonta on 20 Sept 1877. In 1880 he was the head of a household in St. Joseph that included his wife, a daughter, Lizze, his mother, his brother William, and his sister Emma. He was a tinner. St. Joseph city directories of 1887, 1889, and 1890 have a listing for "Dersch H. & Bro., tinners, 1003 N. 3rd".  Henry moved to near by Cosby, MO. were he bought a stove business. He died shortly after the move in 1891. His wife Helena died in 1898, leaving 5 children ages 20, 16, 14, 11, and 8.  The following is about their children:
1.2.1

Lizze (Elizabeth Amalia), Sept 1878 to 1958, 
took on the head-of-the-household roll.  
1.2.2
Viola May, Jan 1882 to 1960.
1.2.3

Edna H., Sept 1884 – 23 Mar 1965,
was a graduate of the University of Oklahoma in Norman, OK. She was long time music teacher in the St. Joseph grade schools and retired in 1952.
1.2.4

Esther Hulda, 14 Apr 1887 – 11 Dec 1969, 
served as an army nurse in France during World War I. She was director of nursing at Research Hospital in Kansas City were she worked for over 40 years before retiring in 1954.
1.2.5

Walter H., Mar 1890 – 6 Nov 1964,
was also a graduate of OU and practiced medicine in Oklahoma City where he raised his family.  He and his wife, Sallie H., had two children, Dr. Walter H. Dersch, jr. and Mrs. Dorothy M (Dersch) Roark.
1.3
Catherine (Jesberg) Dersch, Mar 1850 –

Catherine, at the age of 22, married a furniture salesman, preacher, William Schrage on 31 Oct 1872 in St. Joseph. They had 7 children between 1871 and 1888 in Missouri.  In 1900 they were living in Monroe Township, Andrew Co., MO not far from St. Joseph.  They are said to have traded their farm/home with an orchard, etc. for land in Oklahoma, sight unseen and were not happy with the dry grassland they found. William was founder and minister of a country church near Orlando, OK, the German Methodist Church.  His daughters Minnie and Lillie grew up singing in church and both had beautiful voices. When someone was sick, they were sent to care for them.
1.3.1

William G. 1871 -,
was the only child to stay in Missouri when his parents moved on Oklahoma. He married Zula Z. who had a son, Elmer W. Hopkins, from a previous marriage in 1906. They make a home in Kansas City, MO where he was a barber. By 1930, Elmer was married and he and his wife lived with their parents. Elmer was also a barber and his wife was a Beauty Operator.
1.3.2

George, Jan 1874 - ,
bought a section of land that was not claimed in the land rush near his parents place. He was a life long bachelor and provided a home for his mother in her later years. He finally fell in love but it was with his cousin. After being rejected, he killed himself.
1.3.3

Gusta, 1875 -
1.3.4

Matida, 1878 –
1.3.5

Fred Herman, 25 Dec 1884 – Oct 1966,
married Ella A in 1910 and lived for a while in Enid, OK where he was a barber. Then, they moved to Marshall, OK where he had his own barber shop. They didn't have any children.
1.3.6

Minerva C (Minnie), May 1885 – 21 Feb 1939,
married Oscar Thomas Long on 8 Sept 1911 in Perry, OK. Oscar's parents lived about 3 or 4 miles from her parents and Oscar bought a half section of land across the road from his parents. Oscar and Minnie lived in Guthrie, OK about 25 miles away where Oscar worked in the railroad roundhouse for few years. During this time Oscar build them a house on their farm and the eventually moved to the farm. They had four children. Pearl was the oldest and become the author's mother. Their second daughter Rudy died at the young age of 3. Oscar Jr. became a well known "tool-pusher" in the surrounding area's oil fields. The youngest, Opal, left the farm made it to the big city, Oklahoma City where she met and married James Wallen. 
1.3.7

Lillian (Lilly), Apr 1888 – Jan 1977,
married a minister, John Sonderegger, of the German Methodist Church of Orlando, OK, the church her father founded. They lived in Scotch Plains,  NJ for a while around 1930 where he owned a Furniture Upholstering business.  They eventually moved back to Oklahoma City. They had two sons Raymond and Harold.  Harold and his wife Mabel (Cuppy) had 5 children.
1.4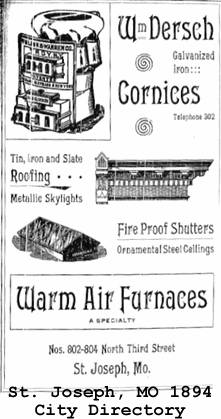 William Dersch, 8 Oct 1854 – 18 Mar 1904.

The following write up is in the "History of Buchanan County and St. Joseph, MO" compiled by G. L.Butt. "WILLIAM DERSCH, roofer and cornice maker, 802 North Third street, was born in Germany October 8, 1854. He came to America in 1855 and to St. Joseph in 1857. Attending school in St. Joseph he learned the trade which he has since followed. Mr. Dersch is a Republican and represented the First Ward in the city council from 1891 to 1894 and from 1894 to 1896 was superintendent of the work house. He married Miss Caroline E. Schroer in 1881 and three children, a boy and two girls, have been born to them."  

The workhouse was the city street and sewer maintenance department. He really came to the US in 1857 and was in Indiana only a few months before coming to St. Joseph.

He was a great lover of music, sang well, and was a member of several of the musical societies of the city.

He started out working with his brother Henry in the Dersch H & Bro tinner business. By 1894 it looks like he was in business by himself. 

In 1917 his son, Louis, -Died of Accidental Drowning-Intoxicated "fell Out Of Boat While Fishing" .

His daughter, Mabel F, married Louie G. Montray and had 3 sons. By 1920, they had moved to Conception Junction, MO and her mother was living with them.  By 1930 they were divorced and she and the boys were living with her mother in Topeka, Kansas. She was a Public Stenographer.    
1.5
Louisa Dersch, 1859 – 16 Apr 1879.
1.6
Emma Dersch, Jan 1864 – before 1920.

Emma married Henry Vennekohl on 2 Sept 1886 and they farmed in Monroe Township, Andrew Co., MO not far from St. Joseph. They had a son Clarence on 12 Sept 1887. He married Pearl E. and farmed with his father.
2
Agnes (Jesberg) Bauer, 1823 – 1910.

She and Fredrick Bauer had a daughter, Anna, in Hesse in 1856. Agnes and their daughter were living with William in New Albany in 1860.  Then they had a son, Edmond, in Indiana in 1865 and a second daughter, Mary, in 1866 in also in Indiana. By 1870 they were living in St. Joseph and he was a Retail Grocer, and in 1880, he was a laborer. In 1910 Fredrick died and at the age of 86 Agnes was a widow living with her daughter's, Mary Neudorff's, family. Mary had married a widower, Fredrick Neudroff, with three children, ages 10, 7, and 3 in 1892. They had 4 more children: Fredrick F., July 1895; Agnes O., July 1897; Vinton R. Dec 1899; and Marion A., 1904. Fredrick ran a hardware store. Fredrick F. was a salesman in a hardware store. Fredrick F. and Cuma E. had two children: Virginia Lee, 1918; and Garrett H., 1924.
3
Henry Jesberg, Oct 1824 –

Henry may or may not be the child of William and Catherine Jesberg but there is a lot of circumstantial evidence that makes him a good fit.  First of all, from Elizabeth's obituary, she was the oldest of 7 children and the second to die.  The obituary lists 5 surviving sibling, leaving one that was born after 1818 and died before 1908. Henry is listed in the 1860, 1880, & 1900 census but not in 1910. That fits with dieing before Elizabeth did.  He was living in near Bradford, IN which is about 100 miles from New Albany. He was born in Hesse Castle like the most of the family and he was a tailor.

He and his wife Mary had 5 children: Mary 1857; Kate B. 1859, George, 1862, Christa 1864, and Carrie 1867.
4
Anna Getrude (Jesberg) Stadler, Apr 1826 – 20 July 1913

Born in Hesseia [Hesse?], Germany, she probably came to the US with her parents between  1848 – 1852. She married Johannes Stadler in New Albany, IN in 1853. Their first daughter, Mary, was born in Indiana in 1856/7. But by the time of the birth of their second child in 1859/60, they, like much of her family, had moved to St. Joseph, MO. There they had 5 more children. Johannes is a shoemaker.  Their great-granddaughter, Mary Jayne Creed, has provided an extensive list of their descendants including:
Johannes

Mary

Herman

Weigend

(Stadler)

Caroline

(Schenk)

(Jesberg)

Anna

Louise gb

Gertrude

Katherine

Anna Sarah

Elizabeth

Emma

Ernestine

Katherine

Agnes

Charles

Raymond

John

(Stadler)

(Roberts)

Christopher

Wilhelmina

Helen

Henry

Carl

(Stadler)

Anna Lee

Roy

(Kurtz)

Emma Ada

Ezekiel

(Headley)

Marie

Richard

(Kreek)

Carrie

Charles

FRANK

(Kreek)

Maude

Joseph

(Decamp)

Mae

Thomas H.

(Bush)

Wilhelmina
5
John Jesberg, 24 June 1832 – 26 Dec 1909

John was married at least twice. The first time was to Cath Hartsman in Floyd Co. Indiana on 16 July 1865. They must have move to St. Joseph with other members of the family. They had two boys, John in 1867 and Willie in 1869 in Missouri. His second Kathrina and he had three sons: Albert Louis Henry, Nov 1883; Frank Carl W., Jan 1886; Harry William, Aug 1887.
6
Katherine (Jesberg) Wild, May 1839 – 1931

Katherine married Robert S Wild and they made their home in St. Joseph, MO.  There they had 7 children. Henry, Aug 1859; John, Apr 1862; Calvin, Dec 1864; Robert jr., Apr 18681; George, July 1871; Caroline, Dec 1876; and William Jun 1880.



7
Christopher Jesberg, Jan 1841 – 1920
Born in Hesse, Christopher came to the United States with his parents. He fought in the Civil War between 1861 and 1865.  He was promoted to Sergeant of Company "M", 5th Indiana Cavalry for efficient service. He was captured during Stoneman's Raid, July 31, 1864 near Macon, Ga., and sent to Andersonville Prison, Ga., and after about three months imprisonment, he made his escape with the aid of a Confederate Soldier friend and joined the Union lines at Atlanta, Ga. 
He married Magdalena Bender in Nov 25, 1866 in Floyd County, Indiana. Their first child, William H. was born in Indiana in Oct 1866. By the time their second child was born in March 1868, they were living in St. Joseph, MO.  His great-granddaughter, Gae Lee Dixon, helped list the following family members.
Gen:

-1

0

1

2

3

Elizabeth

Emma E.

Katherine

Louise

Anna

Lydia

Agnes

John

William H.

Florence

Weigend

(Jesberg)

Evelyn

(Jesberg)

Christopher

Maggie

Katherine

(Jesberg)

Magdalena

Clinton

Bob

(Jesberg)

(Dixon)

Pearl

Paul

Gae Lee

(Schlosser)

Orman

Virginia

Paul

(Lutz)

Olive

Norma O.